We are hosting a two week Pop-Up with our old friends at Tekanda Lodge to offer a particularly special and, well, erm, soulful all-inclusive surf, yoga & therapy experience. Tekanda is genuinely jaw-dropping in terms of location and architecture, and the dreamy infinity pool pared with the music of the jungle gives you space to soften when the world seems to be spinning a little too quickly. 
All-Inclusive Surf & Yoga Retreat – Two Weeks Only
2nd - 16th December '23* 
From £1545 per week
*Stay for both weeks, or choose between 2nd - 9th or 9th - 16th December
---
Jungle Vibes
We love the beach, we really do. We love to surf, obviously, and spend as much time as we can covered in sand and salt and sometimes even sea creatures. But it is also really, really nice to get a little change of scenery after our beach times and see the other side of this lush, biodiverse country.
And you do not need to go very far to see it. Head inland from Kabalana Beach and in a few minutes you are surrounded by the trees, paddy fields and nature. Palm trees, yes, but the other, diverse tropical rainforest lowlands too. From the lodge, you can see one of our favourite places, Koggala Lake, and even spy the Indian Ocean in the distance.
We are hosting two weeks of Soul & Surf all-inclusive retreats here between 2nd-16th December 2023. Spaces are limited so – with only two weeks open in the calendar – don't miss your chance to book your spot.
If you have any question write us at enquiries.srilanka@soulandsurf.com.
---
Click the Read More to find out what a typical day might look like, plus how to find us >>
Read More
A Typical Retreat Day
We base our days around the wind and the tides, and each day we'll have a window of opportunity to go for one big surf or maybe two smaller surfs. Here is an idea of what we'll get up to.

6.30am

Meet for water & bananas, yawn, stretch, wake up

7

am

 

Head out for morning surf and lessons 

9:30am

A hearty, healthy group breakfast putting the world to rights

11am

 

Soul surfing workshops, video analysis. one to one yoga, massage, swim, chat or snooze

1pm

 

Lunch

2pm

 

One to one yoga, massage, swim, chat or snooze

3pm

Our daily yoga/meditation/pranayama class

4.45pm

Head out for a sunset surf session, if you're feeling energetic


7.30pm

Meet for dinner, a drink and a good yarn.

This might sound pretty regimented. Trust us, that's not how we roll. The day's events will change depending on the season, the surf conditions, your energy levels and the day of the week. And if you want to spend the day drinking cocktails in the pool we won't bat an eye-lid. Or... if you'd like to spend the day careering from surf to yoga to meditation to massage and back again we'll make that happen too. It's a broad church we run here.
---
Location
Even though we feel secluded and hidden here, and are very much a part of Sri Lanka rural life, the lodge is only 2km or under 10 minutes from Kabalana Beach and our beloved wave-rich part of the south coast. So it's the best of both worlds, really. You might spot a jungle shrew, a little mammal endemic to this region that we swear we've seen (but was also maybe a cat). You'll hear the peacocks call, or you might watch a mongoose battle it out with a snake. The mongooses (mongeese?) usually win, it's an evolutionary marvel to behold.
We digress. Tekanda Lodge is a tea and coconut estate set amongst 12 private acres of all this LIFE. Sri Lanka is one of the most biodiverse regions on the planet, surrounded by rainforest and rice paddies – when you aren't surfing, or eating, or yoga-ing you can birdwatch, go for a walk in the jungle…or just collapse by the pool and sip on a cocktail or a coconut.
---
Getting to us
Most international flights land at Bandaranaike in Columbo. We are a two and half (ish) hour drive from there depending on the time of day and the amount of traffic. We can help arrange a taxi to us from there or wherever in Sri Lanka you may be joining us from. You'll pay for this (in cash) at checkout.
If you'd like to make your own way to us, just drop us a line at enquiries.srilanka@soulandsurf.com to enquire about directions.
Address: Tekanda Lodge, Kathaluwa Thiththagalla Rd, Ahangama, 08650, Sri Lanka
Read Less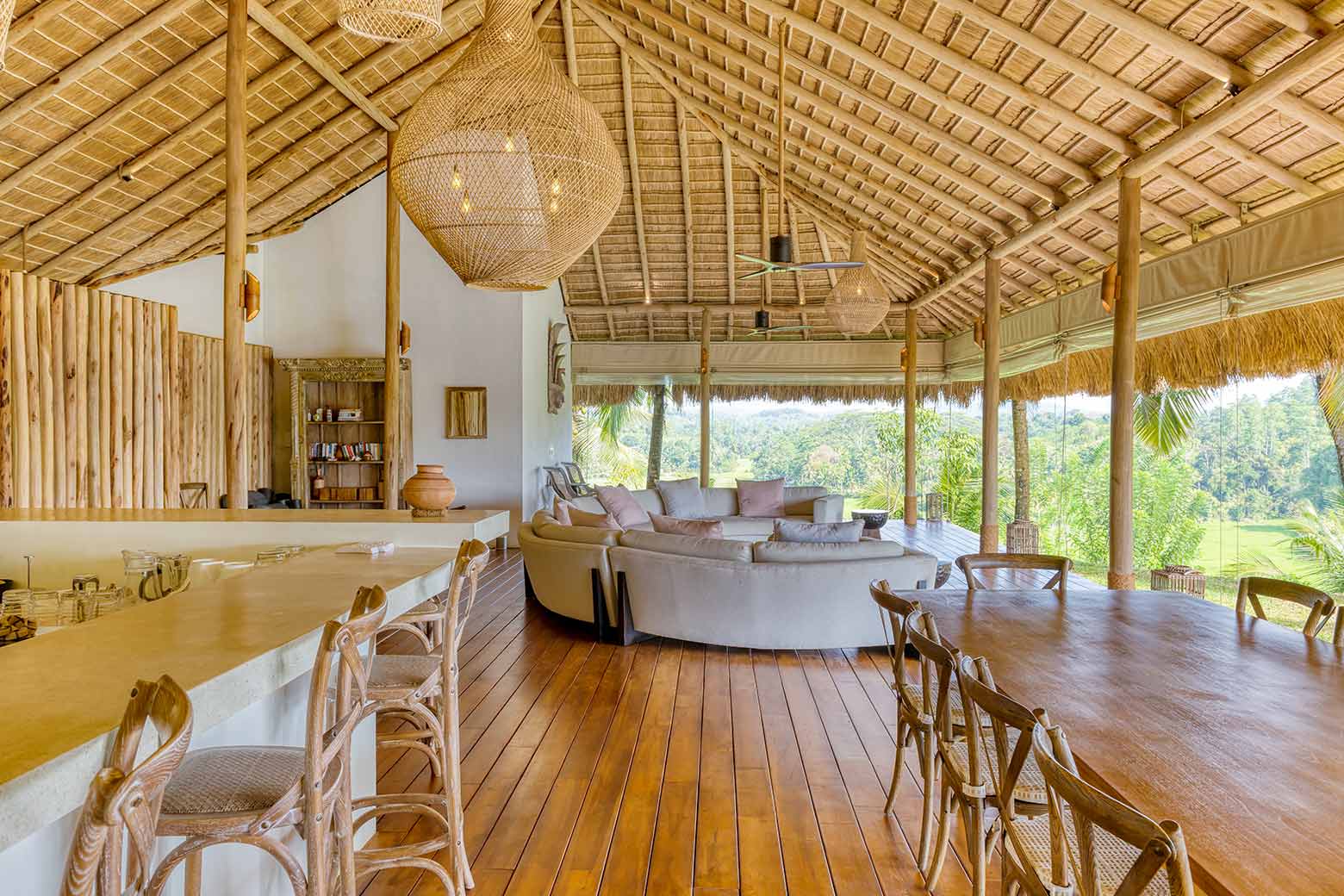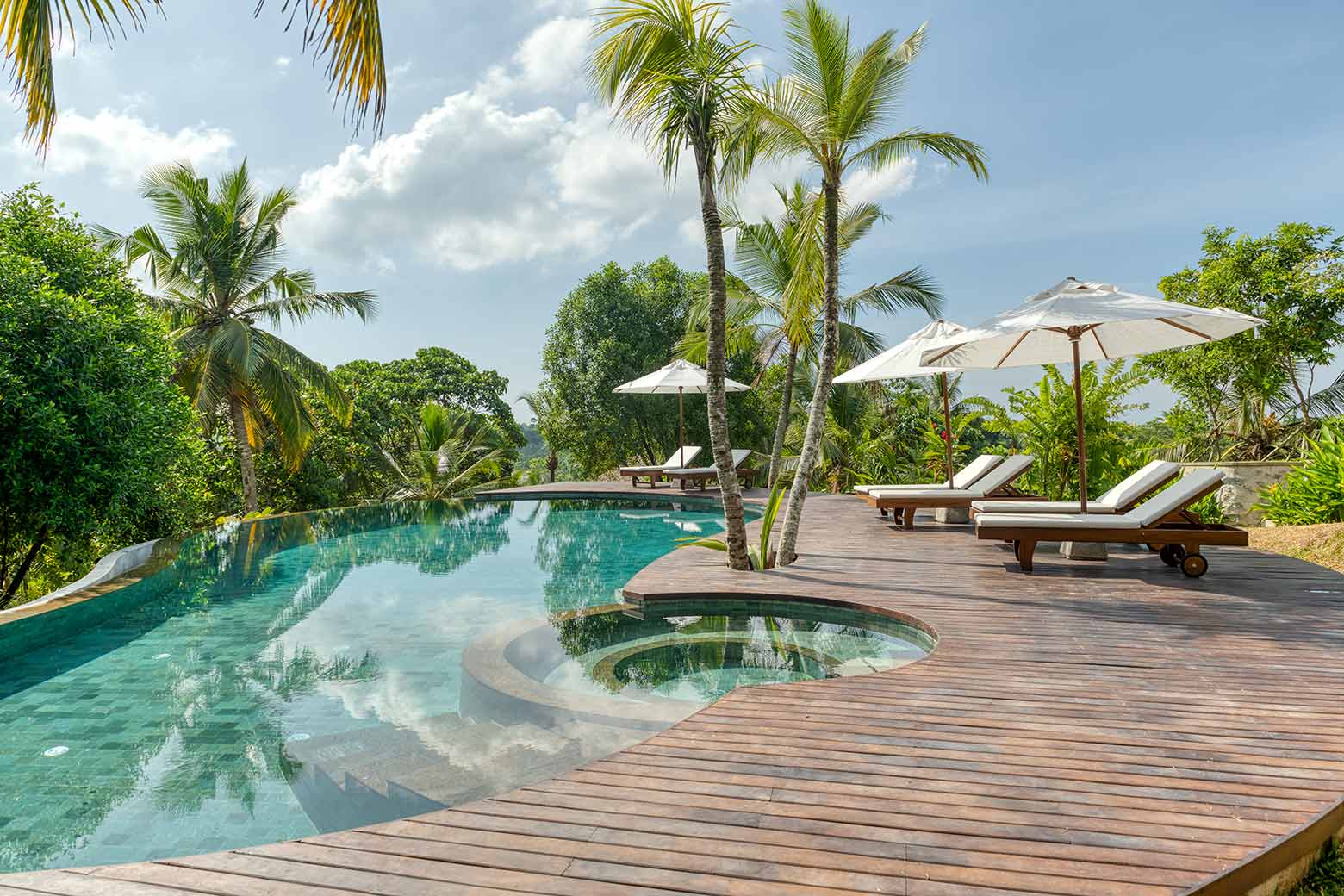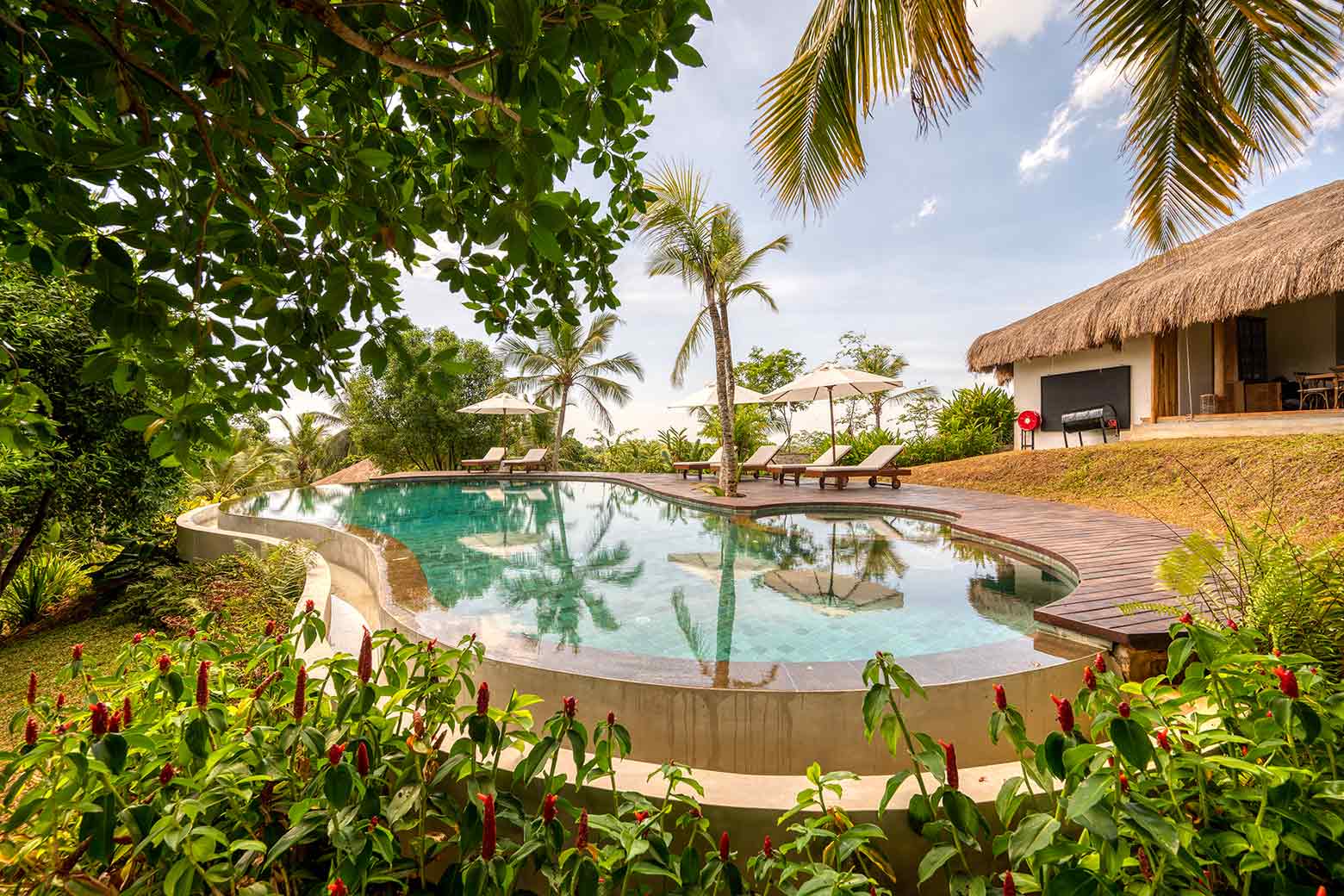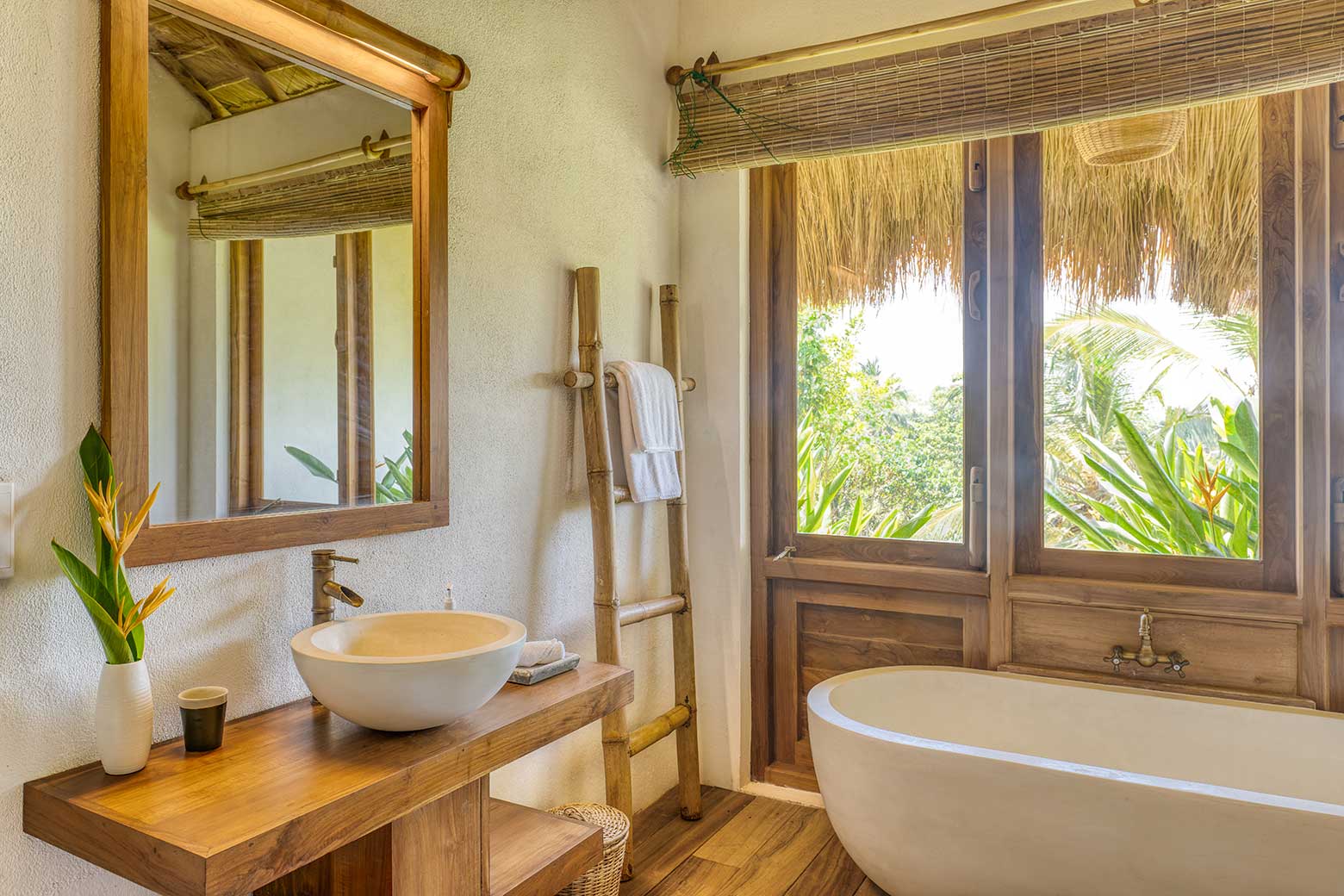 More Photos
Images
Images
Images
Images
Images
Images
Images
Images
Images
Images
Images
Images
Images
Images
Images
Images
Images
Images
Images
Images
Images
Images
Images
Images
Images
Images
Images
Images
Images
Images
Images
Images
Images
Images
Images
Images
Images
Images
Images
Images
Images
Images
Images
Images
Images
Images
Images
Images
Images
Images
Images
Images
Images
Images
Images
Images
---
Rooms
Tekanda Lodge sits on its own private hilltop, surrounded by its own tea & coconut estate. There's a main, central building with four rooms centred around a lush-planted courtyard. With two private suites situated slightly away from the main area for added tranquility.
---
Lodge bedrooms
The four large bedrooms within the main lodge have a lounge area, hand-made wardrobes, AC, en-suite bathrooms and private verandas with views over the surrounding lowlands and paddy fields, plus a gorgeous central courtyard.
There is also direct access to a shared day-room with day-beds. These rooms sleep two and can be arranged as a double or a twin. If you're traveling alone we offer these as shared rooms, or you can pay extra to have it to yourself. There's also plenty of room to add a spare bed for kids or friends that would like to share.

---
Cabanas
The two spacious cabana suites come complete with private verandahs overlooking the paddy fields. The cabana suites are set away from the other rooms, offering a little more privacy and space. They come with an AC & ensuite bathroom.
They are both enormous with a lounge and living area and are perfect for bringing the family or friends along – contact us directly if that's your plan – or just having a lot of space and privacy for yourselves.

---
There is also a spacious open-sided communal lounge, dining area and bar overlooking the pool and with a view. To say the least.
And did we mention the pool? Laze by or in it, in line with the treetops, and watch the jungle-show play on repeat.
Hit Read More for prices and what's included >>

Read More
What's Included 
All-inclusive, starting from £1545 per week 
What's Included?
Accommodation, bed linen and towels

Sunshine Food - tropical breakfasts, light healthy lunches, hearty evening meals

Fruit, Snacks, Tea & Coffee available throughout the day

Help yourself to as much fruit as you'd like

Filtered Drinking water

Wi-fi

Weekly Cooking Demo

Weekly Guided nature walk on the estate 

Welcome cocktail & cocktail on Friday BBQ Night

A beer, glass of house wine or soft-drink with evening meal

Unlimited fresh coconuts

A bunch of great people on hand to make sure you have a good time

Two trees planted per person (via Mossy Earth)

5 x Surf Lessons across the week (Sun-Fri, with a rest day on Weds) - including all gear, transportation to and from the beach, snack and water on the beach

5 x Guided 'free-surf sessions'

5 x Soul of Surfing Workshops

4 x Surf Video Analysis Session

7 x Yoga classes (a mix of Vinyasa, Slow Flow, Pranayama, Meditation & Yin)
---
Non-Surfers
We also have a non-surfer option, where you'd skip the surf and opt for this instead. We can cater for two non-surfers a week loaded so contact us for more details.
7 x yoga classes (a mix of Vinyasa, Slow Flow, Pranayma, Meditation & Yin)

Treatments bundle (2 x 75Mins)

A one to one yoga session 

Daily transport to the beach if you'd like (morning and evening)
---
What Isn't Included?*
Therapies 

One - one yoga

Transfers
*But is very much available and can be charged to your room.
---
Ready To Book Your Luxury Retreat?
Head over to our booking page and don't forget to check our Terms and Conditions and Key Rights here.
Read Less
Surf
The big attraction of surfing this south coast of Sri Lanka is the sheer variety of breaks within a 30-40 minute drive. From lazy longboarding waves to rolling, crumbling beginner waves – all the way to fat A-frames and hollow, shallow reefs – southern Sri Lanka has it all.
---
Soul of Surfing Lessons
Our Soul of Surfing programme is designed to pass on our love of all things ocean to you. From wave-riding on all kinds of craft (focused for your level, be that beginner, improver, intermediate or beyond) to ocean awareness and activism, to blue health and how the ocean is good for the soul. Way more than your usual 'pop-up-on-a-foamboard' Sri Lanka surf school.
Take a meander over to our Soul of Surfing page for detailed information about our lessons, ethos and surf levels. We aim to increase the sense of play (not just success) in the water and give a solid understanding of the soul surfing lifestyle.
Soul of Surfing - find out your surf level, and read all about our approach to surf lessons, theory, our ethos and more.
Yoga
Yoga has always been an integral part of the Soul that we offer within our Pop-Ups. We will guide you through a menu of thoughtfully sequenced yoga asana classes, guided meditations, and pranayama (breathwork) sessions throughout your stay (check this free pranayama out as an example of our work). These will be tailored to you and the surf, helping you to improve your practice no matter whether you are a seasoned yogi or have trouble touching your shins, let alone your toes. 

The aim will be to build strength and mobility to compliment your surfing, using a mixture of dynamic vinyasa, slow flow and restorative yin yoga. Meditation and pranayama sessions will allow you space to reconnect and give you tools to be more mindful, both in and out of the ocean. 

If you're already a seasoned yogi you'll have the chance to go deeper and really focus on your practice, and if you are new to yoga this is your chance to get an idea of how incredible a consistent practice feels. 
---
Therapies
We work with our massage therapists to provide creative, flowing treatments where no two treatments are the same. Our therapists are more than just masseurs. They work with minds and souls as much as they do with bodies, creating a genuine, human connection with you through initial consultations and sessions over the course of your stay.
Our therapist can then create a treatment for you, combining intuitive contact, body awareness, breathwork and connecting with the moment – to look after your whole body in a gentle, caring way.
And if you're just wanting to soothe your tired surf & yoga limbs and muscles, we can obviously help you out with that too.
Everyone can benefit from our therapies. It is useful in especially difficult periods of your life, can help with every-day stress and physical fatigue – and is highly recommended for most of us city folk who tend to live out of kilter with our bodies.
Prices:
60 min - 75USD
75 min - 90USD
90 min - 105USD
Please note that the massage is payable directly to the therapist and prices can vary from the above depending on which freelancer is free during your dates. 
---
Sunshine Food at our Hilltop Retreat.
It's not insta-perfect hipster buddha bowls or Michelin fine dining. It's just the right amount of naughty indulgence and restorative goodness. One minute you're reaching for vegan raw energy balls after a surf, the next you are feasting on Sri Lankan rice & curry or jackfruit tacos. That's what we call balance.
Sunshine food is a signature part of what we do, and that doesn't change for our Pop-Ups...Food and meal times for us are an event, a treat and the fuel that powers our whole retreat. 
Developed by our co-founder Sofie with head chef Aruna, the Soul & Surf Hilltop Retreat menu is all about wild health; using nature in our dishes but not making it just about #cleaneating – it's more down to earth than that. Many meals are plant-based but we balance that with some fish, seafood and a little meat. And of course vegans and vegetarians are always catered for.
Everywhere we look, we're surrounded by vibrant and colourful produce out here in the sunshine. This inspires dishes which start as modern twists on local Sri Lankan food and then range further afield – as we take inspiration from sunshine cuisines from around the world, from sunny salads to soulful sides.


---
Dining
We tend to have a light snack, pre-breakfast of coffee, dates and fruits first thing in the morning, then a hearty breakfast after surf, followed by a light lunch in the early afternoon, post yoga snacks and then pre-dinner snacks followed by dinner shortly after the sun sets. Phew. You, won't be hungry, that's for sure.
At Tekanda – the luxury eco-lodge we are sharing with you – breakfast and dinner are designed to be communal, whilst lunch is more of a drop-in affair. We won't force you to eat everything together if you'd like a bit of alone time – flexibility is our middle name after all – but with so many interesting, like-minded folks from around the world at the table we do encourage it.