We are hosting our luxury surf and yoga retreats at a beautiful new eco-lodge, set in the low hill country where the only things you can hear are birds, monkeys and our really excellent musical selections. Perfect for a secluded, luxury, all-inclusive retreat.
Let's be honest here, the lodge is still having the finishing touches done to the building, the cabanas and the landscaping so we're cobbling together images as best we can to give you a taste of what's to come. And we'll be updating photographs as and when the last few bits are completed and we are able to get in there and add our finishing touches. We hope you'll know from our track record that we go the extra mile to make your stay great (and for those who aren't sure, please check our Trip Advisor Reviews for Sri Lanka from those who've come before you).
Jungle is massive*. We love the beach, we really do. We love to surf, obviously, and spend as much time as we can covered in sand and salt and sometimes even sea creatures.
But it is also really, really nice to get a little change of scenery after our beach times and see the other side of this lush, biodiverse country. And you really do not need to go very far to see it.
Head inland from Kabalana Beach and you are surrounded by the forest. Palm trees, yes, but the other, diverse tropical rainforest lowlands too.  From the lodge, you can see one of our favourite places, Koggala Lake, and even spy the Indian Ocean in the distance.
You might even spot a jungle shrew, a little mammal endemic to this region that we swear we've seen but was also maybe a cat. Or you might watch a mongoose battle it out with a snake. The mongooses (mongeese?) usually win, it's an evolutionary marvel to behold. We digress.
Tekanda Lodge is a tea and coconut estate set amongst 12 private acres of all this LIFE. Sri Lanka is one of the most biodiverse regions on the planet, and we are flippin' excited to be based here.  Surrounded by rainforest and rice paddies – when you aren't surfing, or eating, or yoga-ing you can birdwatch, go for a walk in the jungle…or just collapse by the pool and sip on a coconut.
*sorry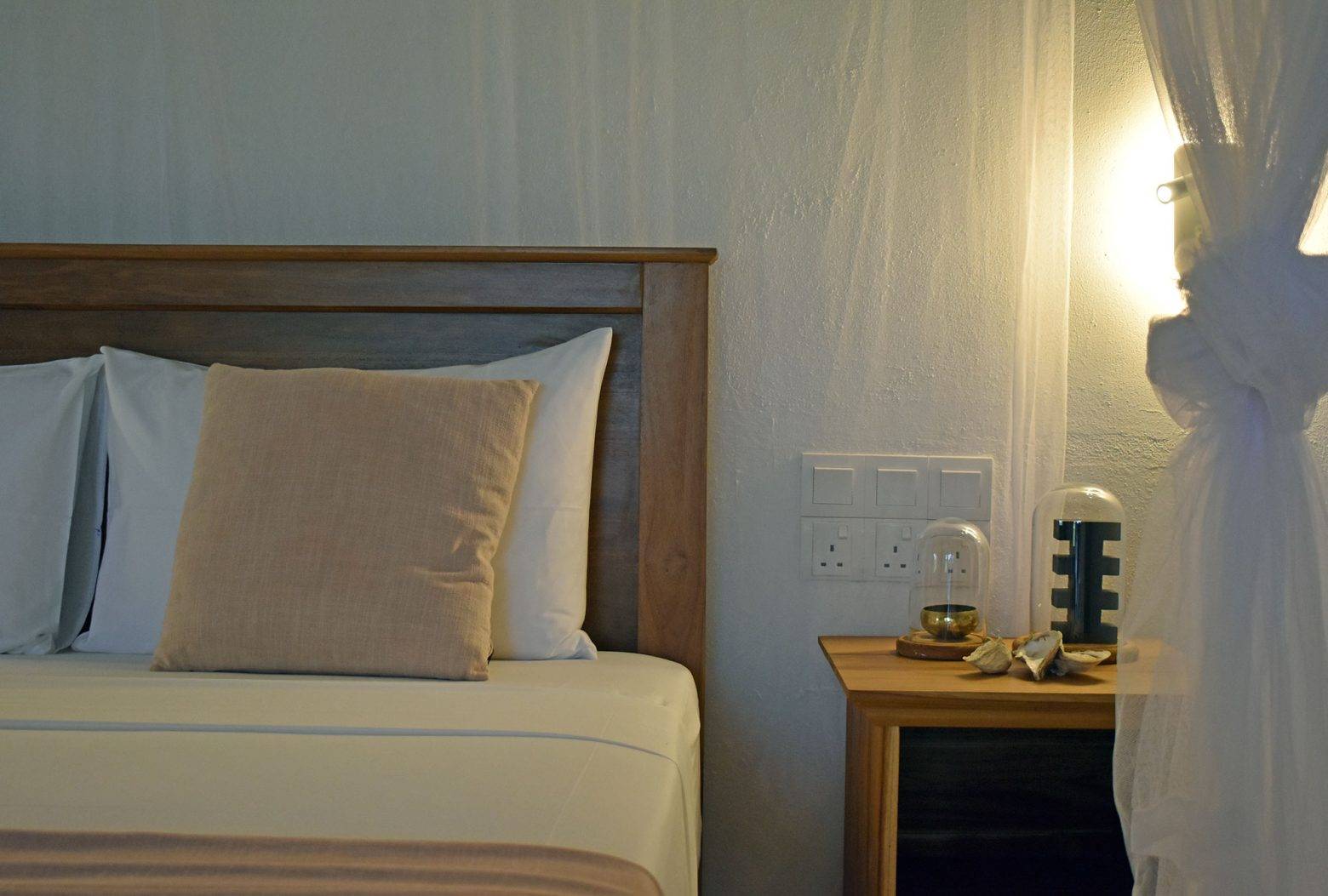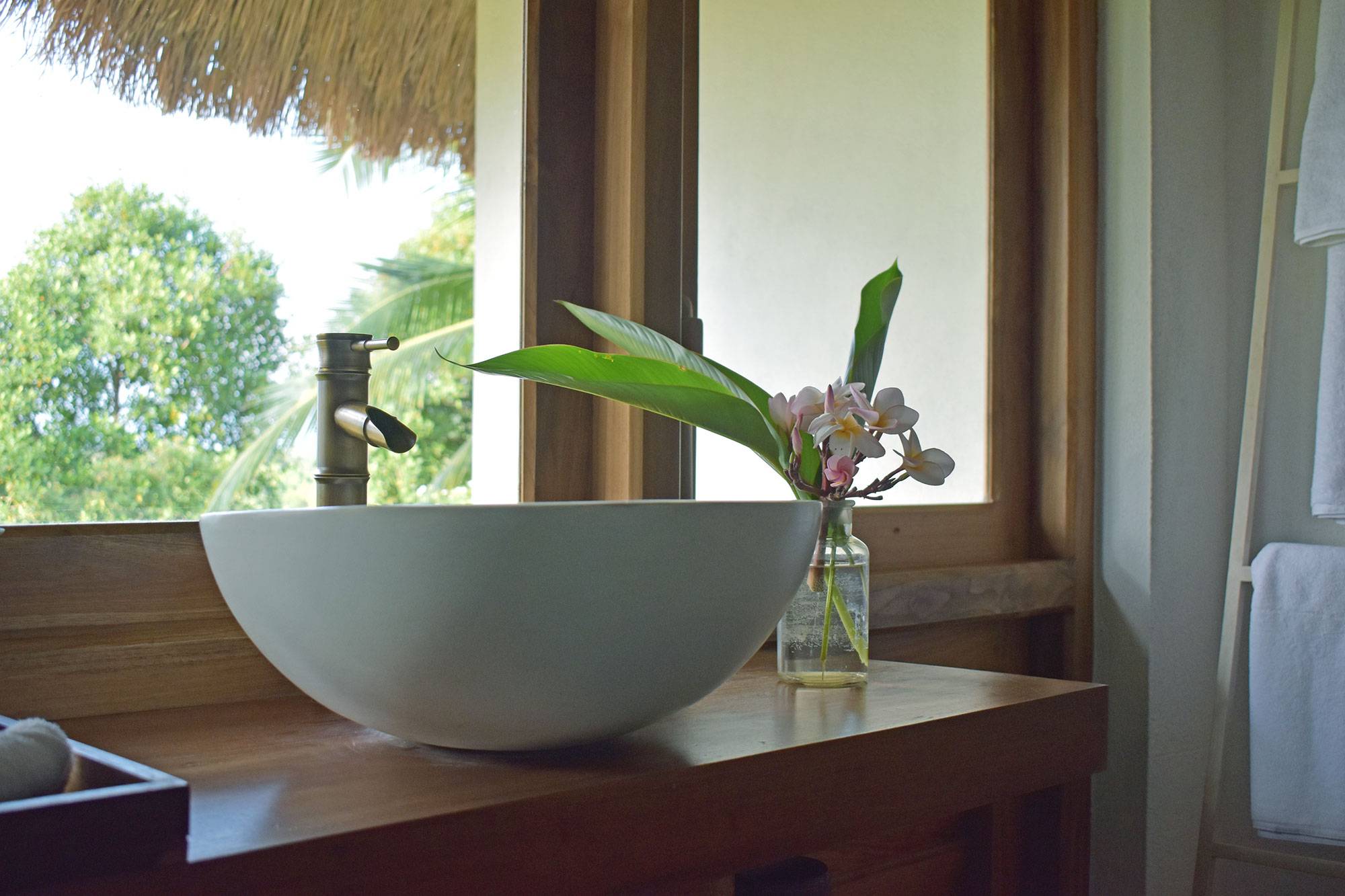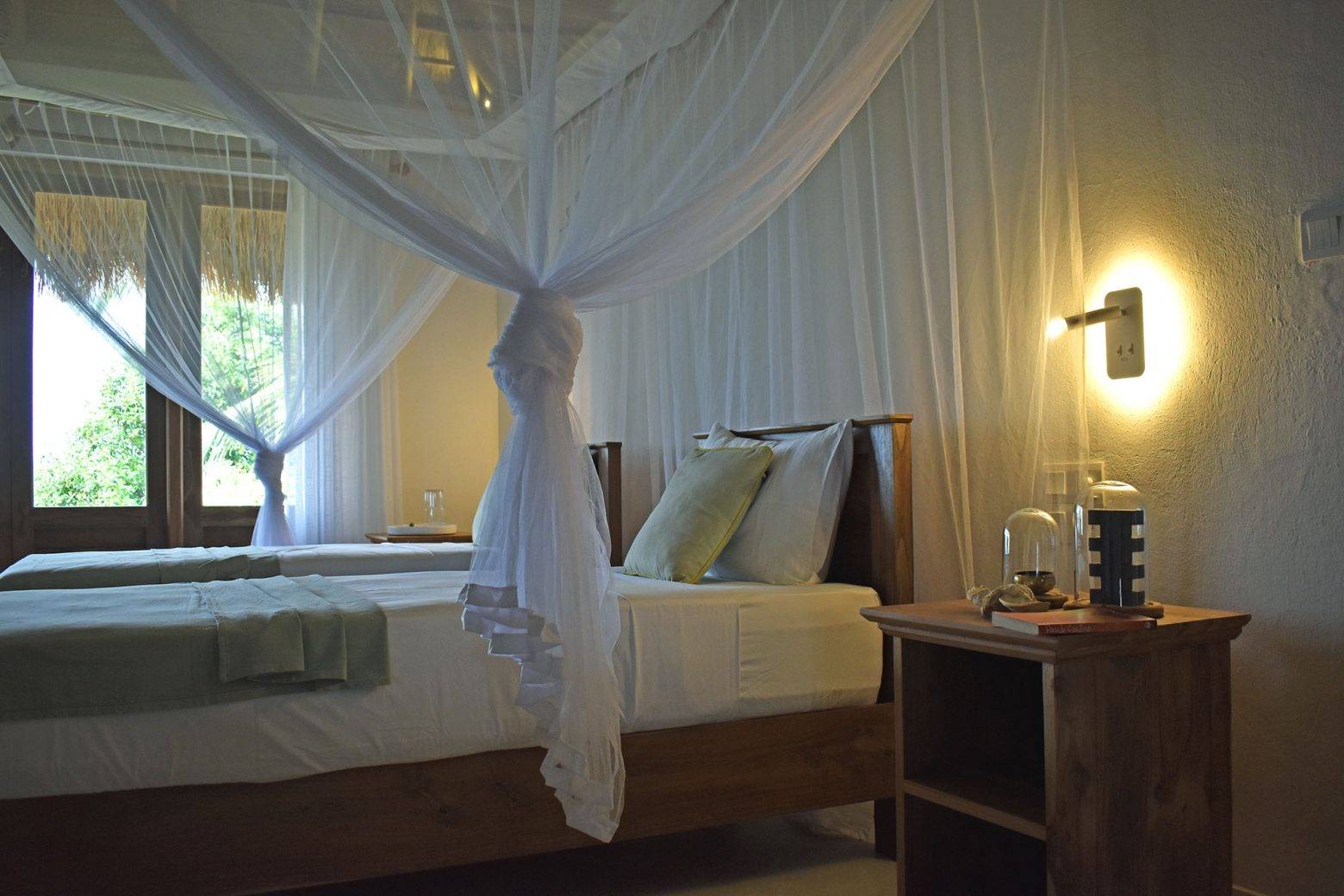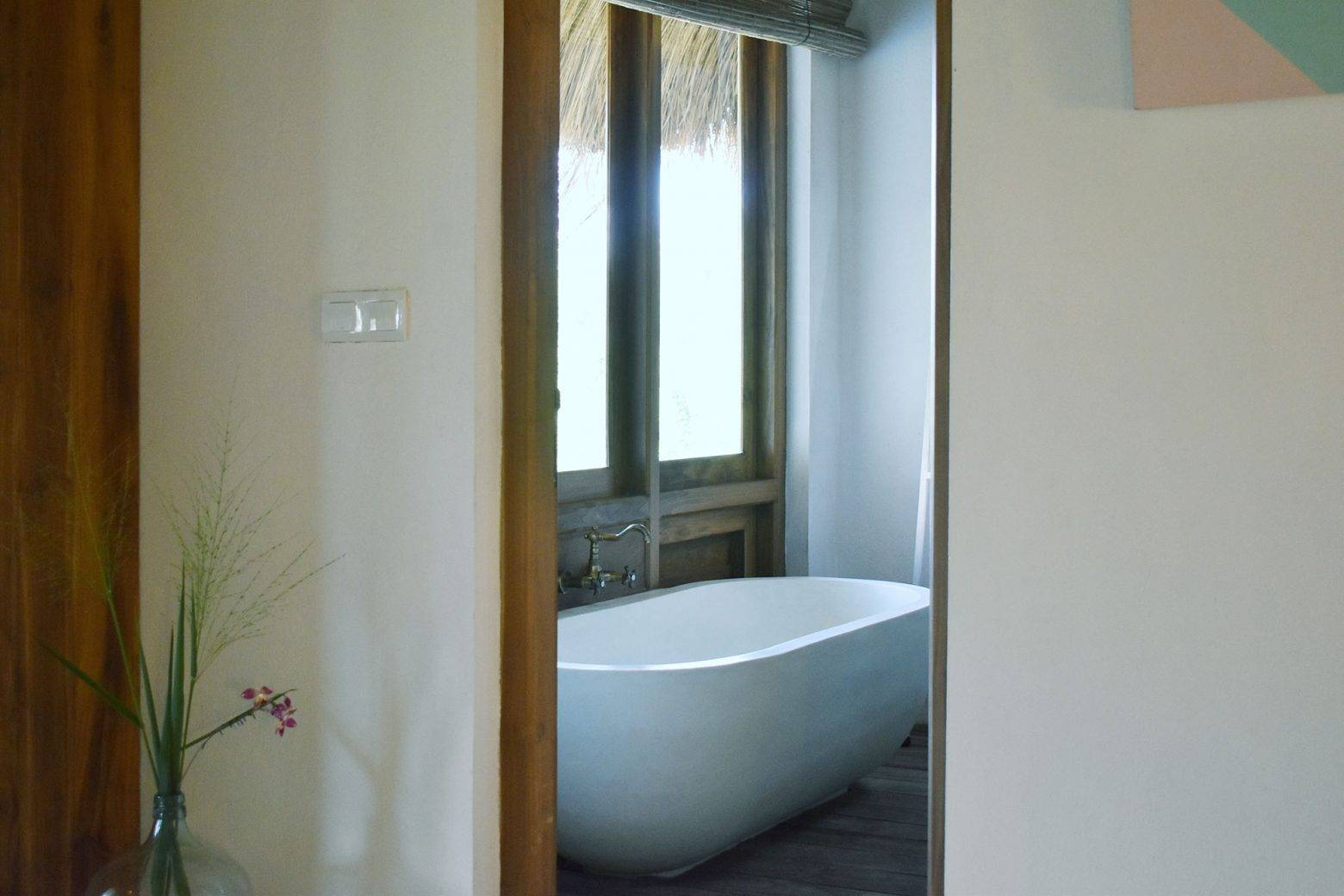 More Photos
Images
Images
Images
Images
Images
Images
Images
Images
Images
Images
Images
Images
Images
Images
Images
Images
Images
Images
Images
Images
Images
Images
Images
Images
Images
Images
Images
Images
Images
Images
Images
Images
Images
Images
---
Eco Creds
The lodge was built by local hands, using sustainable materials sourced from the area. The roofs are thatched with Sri Lankan Iluk grass, and all the doors, windows, beds and tables were made on-site from either recycled wood or teak sourced from sustainable forestry farms in Sri Lanka.
The estate is made up of a blend of organic tea bushes, coconut trees and wild jungle. In the five years since the owners bought the estate they have never used a chemical fertiliser – and have committed to a programme that aims to re-wild a variety of indigenous species of trees and fauna. The Lodge is grid connected but solar power takes most of the energy strain, with well water filtered to mountain-spring quality.
---
Retreat Accommodation
Even though we feel secluded and hidden here, and are very much a part of Sri Lanka rural life, we're actually only 2km or under 10 minutes from Kabalana Beach and our beloved wave-rich part of the south coast. So it's the best of both worlds, really.
Your stay here is all-inclusive – and we'd like to stress that although it is as eco as it gets, it is not basic by any means.
---
The Rooms
Four huge bedrooms within the main lodge have a lounge area, hand-made wardrobes, AC, en-suite bathrooms and private verandas with views over the surrounding lowlands and paddy fields, plus a gorgeous central courtyard. There is also direct access to a shared day-room with day-bed. These rooms sleep two and can be booked as a double or a twin.
Two spacious cabana suites complete with private verandah overlooking the paddy fields. The cabanas are set away from the other rooms offering a little more privacy and space. Both come with AC & ensuite bathroom, of course. One is enormous with lounge and living area and is perfect for bringing the family or friends along – contact us directly if that's your plan – or just having a lot of space for yourselves.
There is also an open-sided communal lounge, dining are and bar with a view. To say the least.
And did we mention the pool? Laze by or in it, in line with the treetops, and watch the jungle-show play on repeat.
What About The Schedule?
All the details of what's included in your stay with us here can be found on our What's Included page, but click the Read More below for a little more insight into how your days might play out...
Read More
---
A TYPICAL DAY
6.15am
Meet for water & bananas, yawn, stretch, wake up
6.30am
Our daily yoga/meditation/pranayama class (Monday and Thursday)
7.45am
A hearty, healthy group breakfast putting the world to rights
8.45am
Leave for your surf lesson or surf guide
11.30am
Surf theory, one to one yoga, massage, swim, chat or snooze
1.00pm
A healthy, hearty lunch
3.00pm
Soul surfing workshops, one to one yoga, massage, swim, chat or snooze
4.30pm
Head out for a sunset surf session
7.45pm
Meet for dinner, a drink and a good yarn.
This might sound pretty regimented. Trust us, that's not how we roll. The day's events will change depending on the season, the surf conditions and the day of the week. And if you want to spend the day drinking Bloody Marys in the pool we won't bat an eye-lid. Or... if you'd like to spend the day careering from yoga to meditation to massage and back again we'll make that happen too. It's a broad church we run here.
Read Less
Your stay here is all-inclusive – and we'd like to stress that although it is as eco as it gets, it is not basic by any means.
Fancy an insider's guide to Sri Lanka? We created our own version of the Lonely Planet for you... Anecdotes, tips and a peek into a life less ordinary.
Download Now
Privacy Policy